Unique, "EB on Breast"
1787 Brasher Doubloon from
The Gold Rush Collection



---
Preface | The Georgia Gold Rush | The Branch Mint Legislation | The Mint Construction | The First "Shiners" | The Minting Process | The 1840s | The 1850s | The 1860s | The North Georgia Agricultural College | Epilogue
---
The Branch Mint Legislation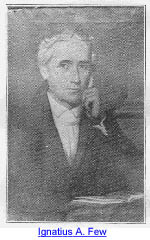 The Act of March 3, 1835 was passed by the United States Congress, which provided that "branch mints of the United States shall be established as follows: One branch at the city of New Orleans for the coinage of gold and silver; one branch at the town of Charlotte, in Mecklinburg county in the state of North Carolina, for the coinage of gold only; and one branch at or near Dahlonega, in Lumpkin county, in the state of Georgia, also for the coinage of gold only." The legislation was due primarily to the political influence of southern congressmen from the gold region.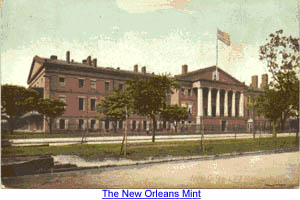 An initial appropriation of $50,000 for the Dahlonega Mint was provided by the Congress. The commissioner of construction was to be Ignatius Few,a lawyer and Methodist minister, best known as the founder of the institution known today as Emory University.


Joseph Singleton, a plantation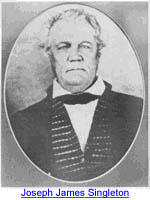 owner from Athens, Georgia, was appointed as the new branch mint's first superintendent. He was described by the editor of the Dahlonega Watchman as "altogether too weak in the upper story for any kind of business that requires an effort of mind."



---
Preface | The Georgia Gold Rush | The Branch Mint Legislation | The Mint Construction | The First "Shiners" | The Minting Process | The 1840s | The 1850s | The 1860s | The North Georgia Agricultural College | Epilogue
---