Unique, "EB on Breast"
1787 Brasher Doubloon from
The Gold Rush Collection



---
Preface | The Georgia Gold Rush | The Branch Mint Legislation | The Mint Construction | The First "Shiners" | The Minting Process | The 1840s | The 1850s | The 1860s | The North Georgia Agricultural College | Epilogue
---
Fast forward one hundred seventeen years, to the fall of 1997. The scene is Price Memorial Hall, currently the administration building of North Georgia College & State University (NGCSU),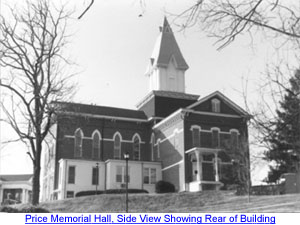 which is the most recent moniker of that venerable institution of higher learning. The building was undergoing a massive renovation project, in which the stately structure had been stripped to its wood and brick skeleton. Of intense interest among historians and Dahlonega Mint buffs was the original granite stonework of the basement foundation, still standing in all its majesty, three feet thick.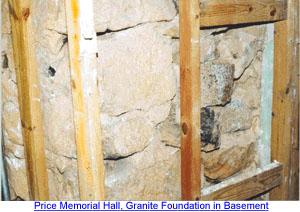 This interior view of the foundation had been unseen by the present generation, as its former glory had been masked for decades by sheet rock, under its utilitarian role of providing office space to NGCSU staffers.

Numerous tours were given through the old hall, and interest in local history, especially the Dahlonega Mint's considerable contribution, was rekindled. One momentous consequence was the discovery of the only-known full-view photograph of the Dahlonega Mint building, which had been the object of desire of many inspired historians throughout the twentieth century.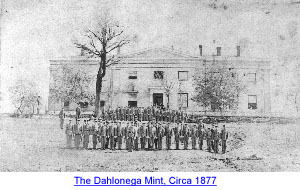 In 1932, Andrew W. Cain, in his History of Lumpkin County for the First Hundred Years 1832-1932 , was unable to find such a photograph, when the trail was not as cold. So elusive and important was the photograph that one local historian called it "The Holy Grail." The ghostly image was discovered, of all places, in the office of the president of NGCSU, in a file marked "Old Pictures." The current occupant of that office, Dr. Sherman Day, had consulted with one of his predecessors and discovered that the file was sent over from the University of Georgia archives in the 1970s. This file was undoubtedly still in Athens when the earlier intensive searches were being conducted at the Dahlonega campus. To those enamored of its gold coinage, the Dahlonega Mint's rich history had come full circle.

---
Preface | The Georgia Gold Rush | The Branch Mint Legislation | The Mint Construction | The First "Shiners" | The Minting Process | The 1840s | The 1850s | The 1860s | The North Georgia Agricultural College | Epilogue
---